DoD is once again ready to get back on the fashion saddle, And what better way to express my (perceived)sovereignty than an update laced with puns made in bad taste. Do try to mask your apathy, as I hold your hand *caresses-the-space-in-between-your-fingers-ever-so-gently* and guide you through my thoughts on how 2014 started(it's freakin' February already!) ; Beginning with the oh-so-superficial Award shows we all love dearly.
Not being sarcastic , but I honestly feel that Gabourey Sidibe is gorgeous. The woman is confident, she knows she's got it. Still a little bitter over her not being supreme on AHS:Coven though. Doesn't she looks radiant!
Judging from the layers of dust that has settled into a sizable dune on top of 2014's first few award shows(as well as my blog HA HA) , I think it's only fair that I give my moderately snide judgments on who's wearing what at where and when. But here's the catch- I don't want to make this post a depiction of adversarial intent amongst the bevy of accredited actresses & actors. It's a totally different ball game now, and here's why .
If you don't know this about me, I am an fervent supporter of the women's rights moment(YUP!AND PROUD OF IT!) . After recently reading a post about how often we objectify women in even the slightest of indiscretions (Click HERE to read the post on Jezebel.com. Good stuff!) , I've decided to make it a point not to pin anyone against each other (because that my friends is a form of objectifying people). Instead of ridiculing the person, I'll redirect my profanities/praise towards the designers! Thrusting the ball of shame around has always been a much-loved sport amongst the good people of fashion, so we're not doing anything out of the ordinary.
_________________________________________________________________________________
SPOILER ALERT: LUPITA NYONG'O IS ON THE LIST. BECAUSE SHE IS
RED HOT
!
Jennifer Lawrence!
Up first is Internet Darling Jennifer Lawrence. Usually for these high profile events, most actresses would opt for high octane fashion with billowing skirts in lieu of the usual silhouette. Jennifer Lawrence decided to forgo this unspoken dogma, and wear this thing. Our Dame in Dior took home the award for best supporting actress in a musical or comedy for American hustle

(congrats, sayang!)

,knocking out THE CLEARLY DESERVING up and coming Talent Lupita Nyong'o. I can't really tell whether the waist down is tool or some form of chiffon, but it looks downright lumpy and rather distasteful. After having virtually worn every conceivable piece of clothing ever crafted by The Dior Couture house, JLaw became the tasty bait of choice for the plethora of online fashion critics that can't wait to call her out on her fashion faux pas. Personally, this high-fashion ensemble did not translate well on carpet.

"I'm wearing Dior. I wanted to surprise, do a shocker, you know?" she sarcastically told red carpet interviewer Ryan Seacrest. But She definitely

deserves

credit for "taking a risk"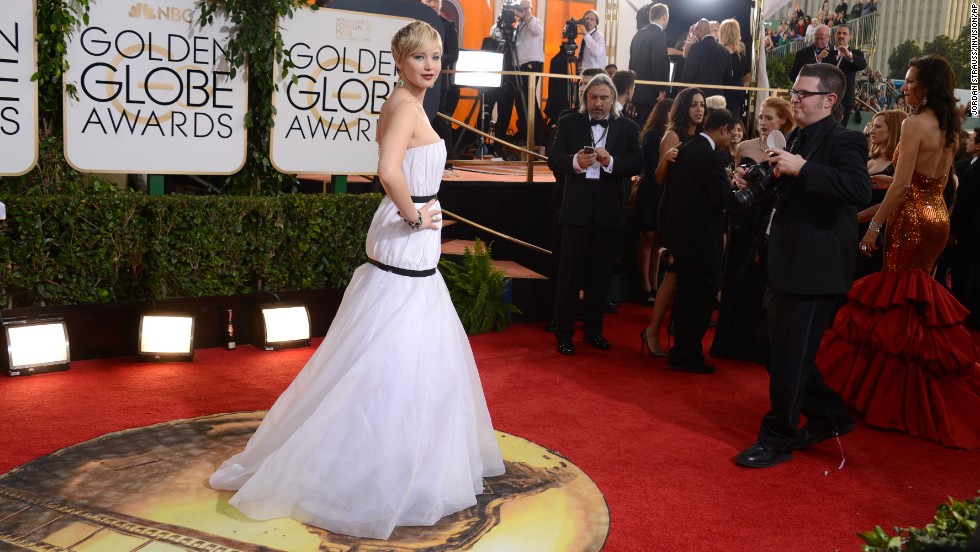 Having signed a contract with Raf in Blood, this girl on fire has been burning blue lately. Already the face of dior for a bevy of their ads, it disappoints me because she is IMMENSELY BEAUTIFUL and beyond capable of any look. The make up was spot on though, with an exquiste Roger Vivier Clutch to boot!(or minaudiere, if you're feeling extra pretentious today). She's OKAY LAH.
I give her dress a 6/10
Olivia Wilde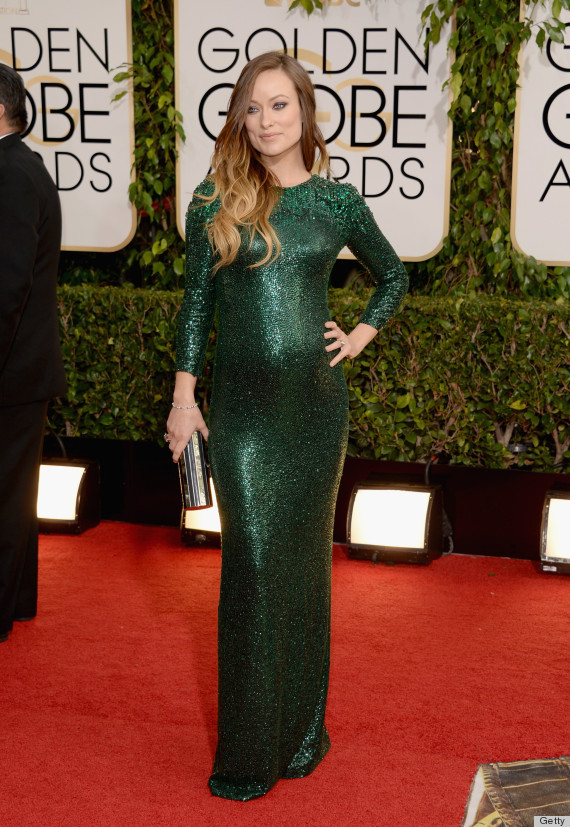 The Golden globes had a few ladies walk down its carpet, and some happen to have special cargo on board. Sporting her baby bump loud and proud is our resident dame Olivia Wilde from this year's most poignant romance feature"Her". Unbeknownst to a few, Olivia starred along side Chris Pine in a Cinematic work of art about the undeniable connection between siblings(and family) called "People Like Us". I highly recommend it, but be prepared to scream at the screen when the brother almost kisses his own sister(Woops. Spoiler) . If you're wondering how to get the maternity glam look down to a tee, look no further than Olivia Wilde donning this

shimmering emerald Gucci Gown

. I think we can all agree that she was probably one of the top three best dressed women there!

An easy 9/10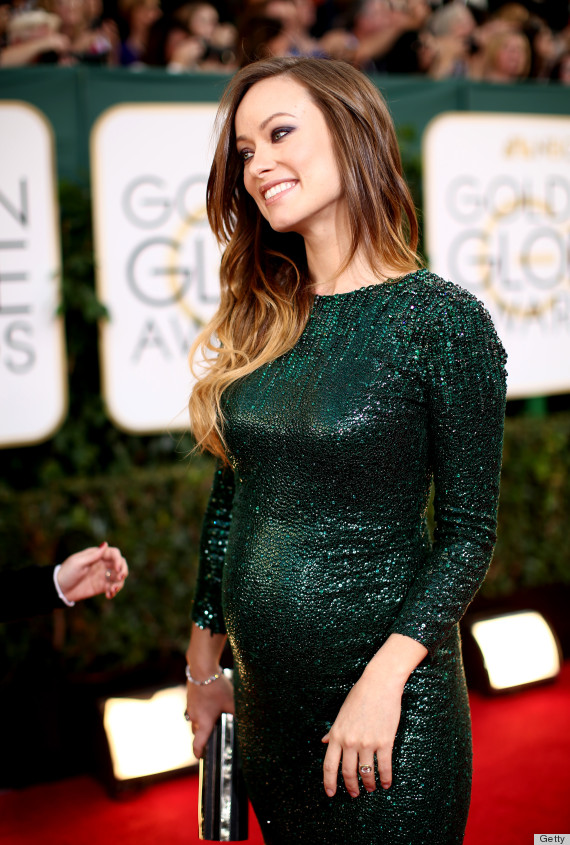 Zoe Saldana
My Spicy Saldana from another mama packed a punch with this busy piece from Prabal Gurung. Truth be told, I initially thought this dress was beyond ugly. It reminded me of when Lindsay Lohan did a collection for Ungaro. Total train wreck. But as I spent less time scrutinizing the minuscule details and paid more attention to the entire dress, I began to appreciate its eccentricity. Very few dresses are able to transit from runway to roadside and still remain Catwalk chic. What makes it worth its weigh in gold is that Prabal had Miss Saldana in mind when he was designing this understated masterpiece. And though she wasn't nominated for any accolades, she did present a few awards along side Comedian Aziz Ansari and Olivia Wilde. Good company, No?
For its unorthodox appeal, this look gets a 9.5/10
Michelle Dockery
Downton Abbey's Michelle dockery has been hitting home runs with her fashion choices ever since the show's meteoric rise to mainstream success. In her Sequined Oscar De La Renta Mullet Hem Dress, she's what they call "a True English

Rose

"- Skin as fair as snow, lips as red(OR blood orange?)as a rose, and hair as gorgeous as a Drag queen's weave. It's an unsurprising fact that Michelle and Lupita Nyong'o Share the same secret weapon- their stylist Micaela Erlanger. Someone better keep an eye out for that one, because she's been dressing everyone up in the best garbs money can buy! That being said, the dress ins't that groundbreaking.
7/10 is my verdict
Camilla Alves(baby bump and all!)

Matthew McConaughey is one lucky man to have this gorgeous mermaid draped in a sea of ebony sequins as his wife. Camilla Alves, much like Olivia Wilde, brought her baby bump front and center for the world to see. This Miracle was made in the Ateliers of Dolce&Gabanna(when they're not avoid tax evasions), and I must say they've really made black the new black. Staring at its train is like staring into the deep night sky. With only her neck and hands bare, she was still one of the sexiest women there. Which really goes to show how showing more skin doesn't necessarily mean something is more sexy.
I award Lady Camilla Alves with a score of 10/10
Sofia Vergara
When I was still working for Harper's Bazaar as their fashion intern, I would laugh with the neighboring intern from Cleo about Sofia's fashion sense. According to her, Cleo's editors hate her because all she ever wore were dresses that accentuated her "prime real estate". Which isn't really that far from the truth, but hey it's her basic right to choose what she wears. All i can say is that this Zac Posen dress maked her look like Ursula from the Little Mermaid. And I love Zac for all the wonderful work he's been doing. The man really does explore the frontiers of his own creative limitations, something most designers attempt but to no avail. I'm just not feeling good vibes from this one( even though websites like the huffpost say she looks gorgeous. Really?)
A 6/10 at best
Gabourey Sidibe
There's probably over a billion words in the English language, and yet I can't string together a sentence that would succinctly encapsulate how I feel about Gabourey Sidibe. She's confident, and radiates a commanding aura. This Precious starlet has since taken off and dominated the small screen with her latest role as Queenie, the human Voodoo Doll of

American Horror Story:Coven(THIS SHOW IS SO BAD ASS!!!!!!)

But apparently some assholes on the internet decided that being a strong and confident woman is just wrong. So they mustered all their courage, and posted vapid comments about her choice of dressing. To which Miss Sidibe replied via twitter,

"To people making mean comments about my GG pics, I mos def cried about it on that private jet on my way to my dream job last night. #JK," . This Michael Costello Gown however feels a little too prom-ish.

Wish I could do better. but it's a 7/10




And lastly, Taking home the Gold is Lupita Nyong'O!
Like most cliches I try to adhere to, I saved the best for last. Every year, One undisputed breakout star will garner the attention of the masses with his/her artistic talent along with impeccable sense of dressing. It-girl Lupita Nyong'o slayed the competition with this BADASS Floor length Crimson Red Cape Gown from Ralph Lauren. The 12 years a slave actress did not go home with the award for best supporting actress in a motion picture(although she should have!), but definitely won best dressed that night. As mentioned earlier, This work of art was styled by Micaela Erlanger of whom serves as a stylist to both Lupita Nyong'o and Michelle Dockery. When asked by New york Magazine about her fashion sense, she said "I don't know why, but I like to keep that part of it very intimate and very small.". Down to earth and immensely talented, I can't wait to see the kinds of tricks Micaela Has up her sleeves for Lupita.
11/10
So I guess I've come to the end of this soliloquy about style. In all honesty, I took more than 2 weeks to write this article. AND it's not that I'm having a hard time expressing my thoughts, it's just that I've been really really lazy with my writing. As fas as literature is concerned, I have been avoiding writing more and more. But by doing so, I feel less special. It was the one skill I fabricated to feel special. And now it's waning away. Hopefully all that will change now.
Anywho, I hope you've had fun reading my thoughts on the golden globes. I personally would rather be an actor walking down the red carpet for an award nomination that actually style or design any of the clothing. It's the allure of being in the lime light that really intrigues me, rather than the reclusive gratification of a designer who knows his designs are red-carpet worthy. As far as holidays are concerned, I wish everyone a wonderful month ahead. But really though, I apologize for my frequent periods of inactivity. Inspiration to write comes and goes, and my constant lethargy doesn't do me any favors(forgive me?). Better let than never, no? Thank you for reading, till we meet again.
- Sam of Dreamofdior